AEG Signature - Built To Resist
by
Stephan Dombaj
The principle is as simple as fabulous: Take two worldrenown blanks and pimp them up to endure everything! Well, I´m talking about the latest generation of hardcore flyrods - the AEG aka. Troutbum Signature Series. Based on the internationally know Greyline/Multi-Series system both the 5weight (9ft) and the 6weight (9,6ft) are far more than just awesome troutrods. And I will tell you why...

(5wt AEG + WF5Multi - 6wt AEG - behind- WF6F OptiStill)

I have tortured both rods across Europe from Norway (Rena/Glomma) via Gemany, Austria down to the dirty south (Slovenia, Croatia) and of course at some meetings and expositions aswell. And I really mean it like this! Abusing tackle and clothing 24/7 without pause; and these rods are just the right tool for it - doesn´t matter at all what you´re aiming for. From most delicate graylings to monsterous pikes, carps and seatrouts...go for it!
(Climbing in waders - you want it? You´ll get it!)
Just a few words before the party starts: Some people keep asking for the gripmaterial: The grips are made of a non-slippery Cork-Rubber-Composite which is a logical consequenz when your fishing hardcore, because you eradicate all disadvantages of natural cork, like biodegradation, isolated inclusions on pressure points and so on. The quite rough structure of the material gives you a firm grip, even if you have taken a bath in living eels. A detail that makes the diffrence.
(Hand vs. Freshwater-Tiger...)

So time for some action now. For those of you, who are intrested in the shown setups: The 590-3A represents finest carbontechnology in additon with fresh and useful design that serves the idea of building the ultimative fishingtool. I use it with a WF5F Multiline and it performs very well on both distance and delicacy. The 696-4A is a true killer rod - especially with a WF6F OptiStill I´m about to run out of words. A versatile tool for every ocassion. Due to it´s very powerfull buttsection it´s predestined for BIG-FISH-Challenges. As I said upon: Trout, Grayling, Carp, Barbel, Sneep...and so on... typical targets for a 5 and 6weight - so it was time for a bit action: Item to go: 22cm PikeBoosterFly! Let´s play down and dirty!
After several carps it was time for a blast. Rules: Strip it fast and prey for the big band...and well: it banged!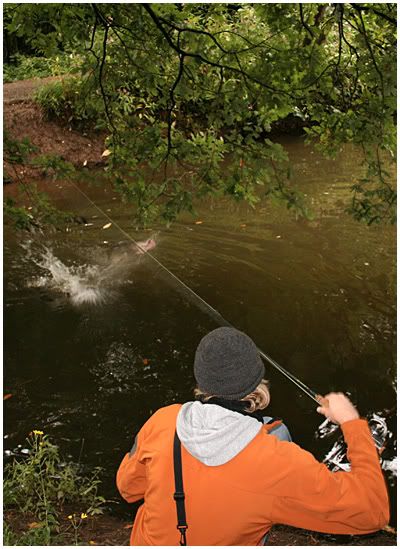 (102cm Flyby)

(Landing)

(Yammy)

(Jumping mama)

Misc. Footage:
(Carp in 6wt AEG)
(Stream-Stalking)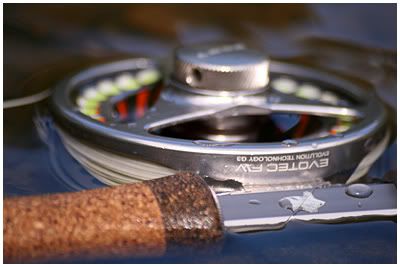 More Pictures coming soon! Stay tuned!