The Legend Of Moby Dick
by Stephan Dombaj
Winter is pissing me off - not because I hate the cold and gray weather but the simultaneos incident that most lakes and reservoirs are frozen. A forced pause for pike and carp - what a mess. Anyway, now that some waters are partitally ice-free it was my and Paulo´s duty to check out what winter has done... meanwhile we were hot on getting the new Loop Shooting Head-Adjustments done.
(Cap. Ahab - prepared for every occasion)
It was more like taking a walk with the rod (last day before pikes are going to be preserved), so we decided to leave our waders and jackets at home to get a little overview. A little casting seassion - not on the lane but on the lake. Time went by and we were still busy checking and adjusting our equipment for the next adventures when the horrifying creature arrived out of the muddy depths of the lake. The unique white "Moby"-Carp, that fish that tortured a whole bunch of carp-freaks all over the summer: the fish that knows every highprotein-bollie by name, the uncatchable curse of every specime hunter... (I could go on forever)
Before I started to realize this possible one-cast-one-blast chance, I saw my hands nervously searching for a giant nymph or a GloBugfly. Got one... prefect. I really didn´t care about the sinking Pike-Booster SH. Now it was all about the fish and me (HARRRRRRHARRRR) Ready to get busted by a flyrod! GloBug just came right. Fish turned... came a little closer...and killed it topwater! SCORE!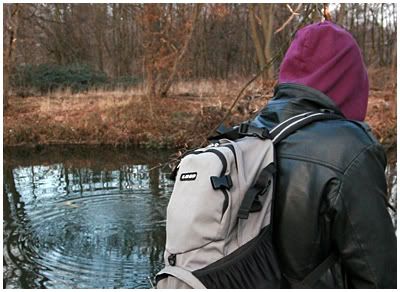 (Cap. Ahab setting the hook)
What more can I tell... Ah, yeah - I got it! Here are the pictures. I´m sorry for the lame perspective and quality but a quite insane dude came by and acused us to be fishkillers and whateverbitch-stuff... so I landed the fish... held him for a short photo up and released "Moby" instantly.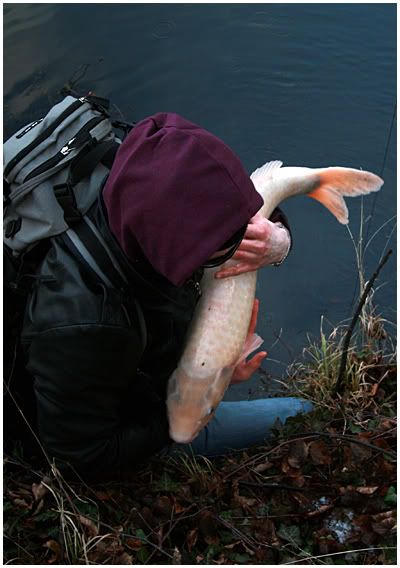 (Happy landing)
(Moby the uncatchable got busted)
Yeah... I know... I look like a douchebag! Cheers!