Fight The Elements - 3 Months Patagonia
b
y Stephan Dombaj
"Hola to all Guerillas around the globe!
I am glad to announce too you that I am going to leave Europe behind. Well, at least for 3 months starting Januar 2010. During this time I will be assisting the guys from
Loop´s Private Estancia Las Buitreras
in Rio Gallegos/Argentina as an assisting host/campmanager, journalist and instructor. Beside world reknown
Rio Gallegos
and
Jurassic Lake
fishery I am looking forward to explore Patagonia´s remote areas. Meet me in Argentina. Experience a trip of your lifetime. Fishing the andean Patagonia region is always harshly tinched be the ancient spirit of this region that is bourn out of fire and wind. Take a step on this ground and you´ll feel the deepest greatfullness overcome.
Like every usual, I´ll keep you updated with week-reports. Be part of the party or stay tuned for some more action...
Tight Lines,
Stephan Gian Dombaj"
(Argentina approved)
Here are some dates for available rods:
13-20 feb - 2 rods
6-13 march - 4 rods
3-10 april 4 rods
10-17 april 4 rod
Contact via:
travel@looptackle.se
(Rio Gallegos beauty)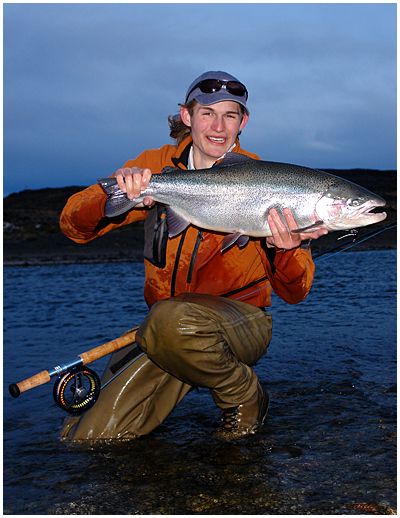 (Jurassic Lake)
Guys, check out this Email adressed to Don Chrillo himself. As I said before... it´s hard to describe but it´s the truth:
"

DEAREST CHRISTER AND SJOBERG FAMILY..
HAVE A MERRY CHRISTMAS... AND A HEALHTY & PROSPEROUS NEW YEAR..!!!

I am Just back from the Jurasic Lake, Dec 9 thru 12...After arrival around 4 in the afternoon, I fished for about 4 hours... and caught 35 .. fish...!!! NO WIND...!! The next day... weather was UNUSSUAL WARM, and WINDLESS..!!! I fished, DRY FLIES... in the Pool...( the back of the " island" facing the camp... ) was the most awesome dry fly fishing on my life...!! by noontime, I had counted total of 76 fish ..LANDED !! The afternoon, after lunch, was the river time.... by 4pm in the afternoon, had completed the number 100 ...!!!By the end of the day ... I had counted 120 fish.... alll fish were in the double digits...!!The next day... our last day... was a more selective fishing, totalling 167 fish in two and a Half days of fishing..!!!AWESOME..!!!TWO FISH WERE over 22 pounds plus, one male and one female.... have the TV Tape and Pictures of this wonderful trip.... MY FIFTH TRIP TO THE JURASSIC... counting the days and hours to return in March or April....!!!WARM REGARDS, FOR YOU YOUR WIFE & DAUGHTER... FOR YHIS XMAS...!!!
Your Friend
JORGE"
(Get bend)
(Double-Double Digits)