The Giant Carp Quest 2nd. Day| 40pound + On Fly
2 Days Rod´n Reel Torturing
by Stephan Dombaj
feat.: Matthias Burget &
Nikolai Prietl
Make sure that you don´t miss the first part. Click
here
to get some more information!
Our last chance for the big bang and the forecast was a mess: Rain, Hail, Harsh Wind and Thunderstorms - Sun in between and time is running. A dark front at the horizon sets a deadline of a couple of hours untill thunder and lightning makes the handling of a carbon rod even more thrilling. Far more complicated than the weather situation is the simultaneous atmospheric pressure drop off, what leads to a feeding stop - from one moment to another. The air bladder is responsible for this phenomenon since it's highly affected by this sudden drop off - it makes carp feel unwell. Anyway, the quiet before storm wasn't quite at all since carps went nuts! Good chance for a 40 pounder?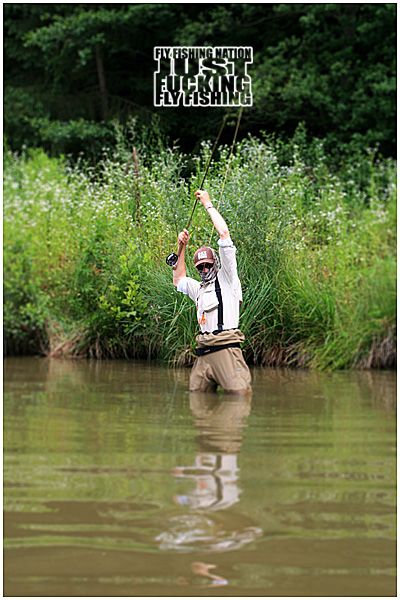 (First fish of day II)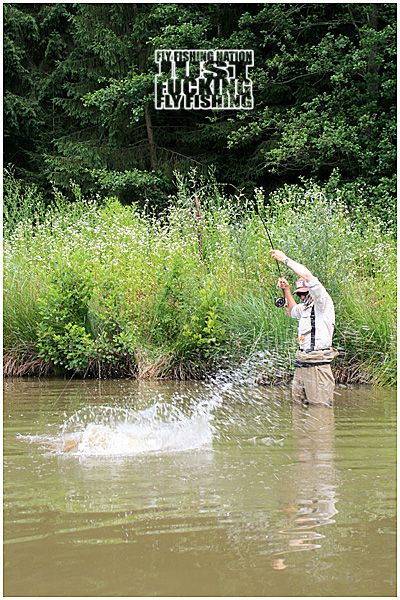 (A real fighter!)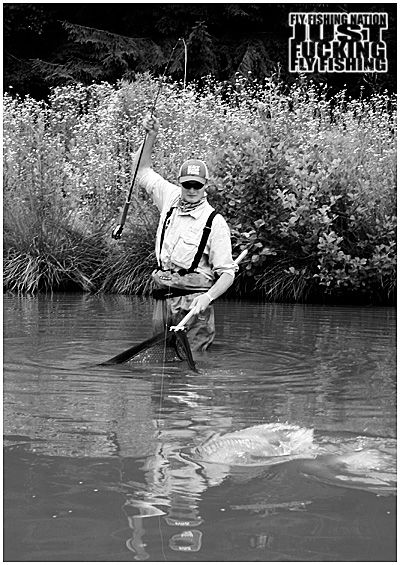 (Greenback)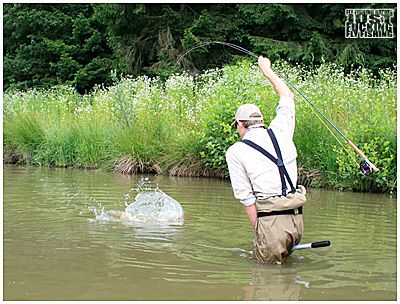 (Need a landing-net for this one)
(First attempt)
(2nd. attempt - WOOHHHA!)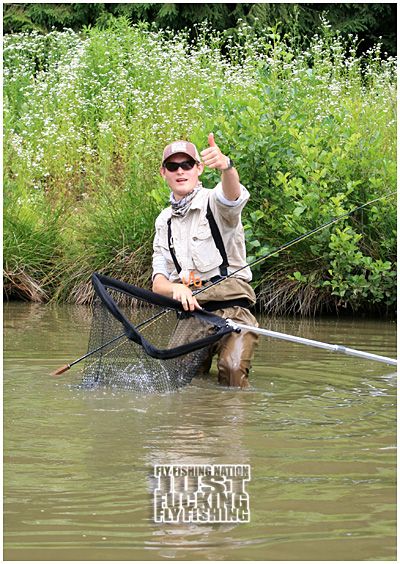 (Safe!)
(Old fish with giant fins)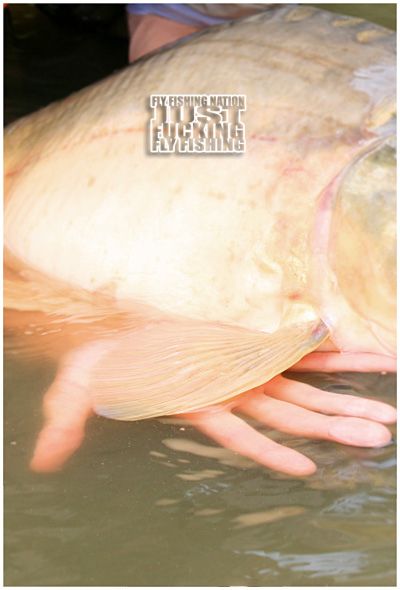 (...)
(Get away...)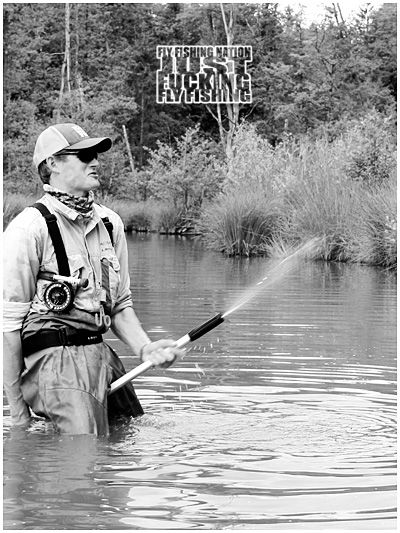 (Yeah, Baby!)
After a couple of "smaller" steroid-bulls, Niko got in serious trouble... he hooked something really big from the drift boat. I pushed the "rec-button" and took some pictures meanwhile. The situation was tense since we all knew that this fish could be the fish we were all aiming for: The Holy Grail, the big Mama! Check this unique footage out:
(Driftboat for the win)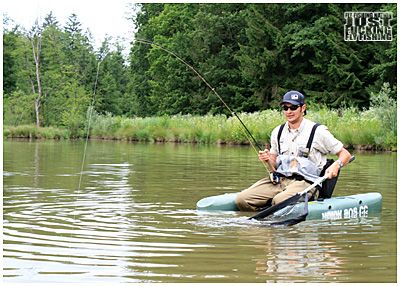 (Niko gently lifts the monster!)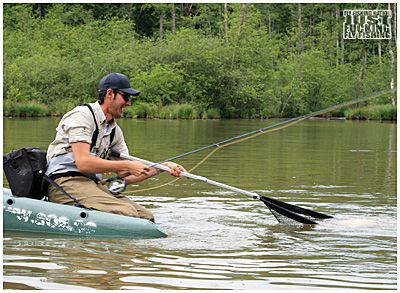 (OMG, it´s in the net!)
We all were very eager to see if this fish could break the barrier! It was just massive -the best word to describe this perfect giant fat ass monster carp! I taped the weight-in: Exactly 18kg...
18 Kilogram = 39.68321 Pound - 150gr left for the win!!! 150GRAMMS!!! Congratulations Brother... this fish is for sure one of the biggest ever documented carps on a fly rod!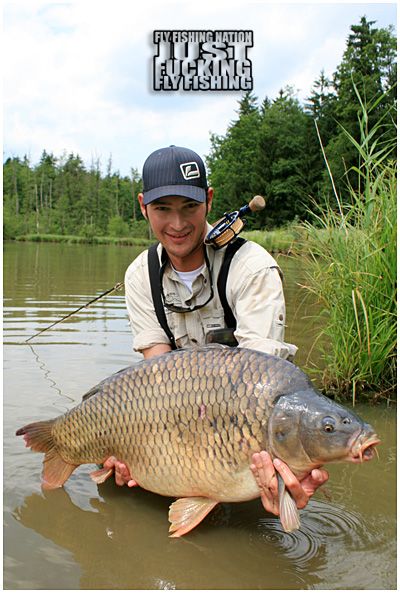 (18 Kilogramm = 39.68321 Pounds)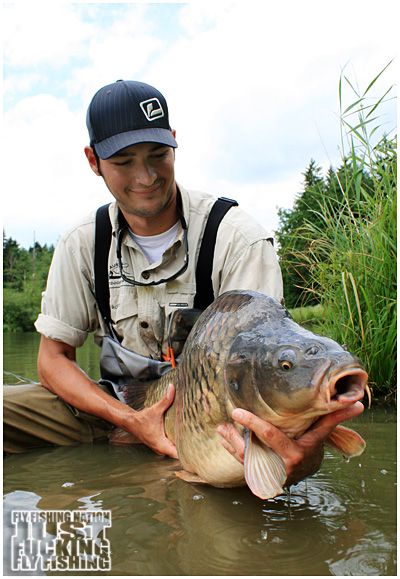 (Fat belly)
(Giant head)
(What a fish)
(See you soon... at least 150gr heavier)
150gr... that's the weight of the little word "almost". Actually not even worth talking about it, just a little scratch on the surface of perfection, but in this case it means everything. We could easily round the weight off to reach the barrier but the bad taste would still remain. Don't get me wrong... this fish is perfect, a mark that is very hard to break, but if you are just an eyelash away from your goal that you set yourself... you know... Niko rose the bar! We all realised that the average size increased rapidly and the last fish was a irrepressible evidence that some big fat crackers were feeding actively!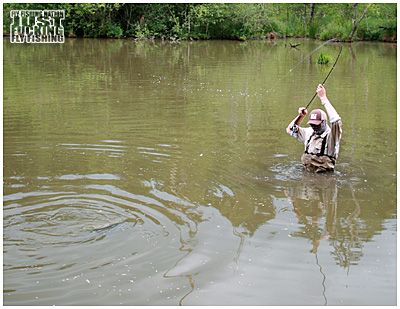 (Deep wading - big fish)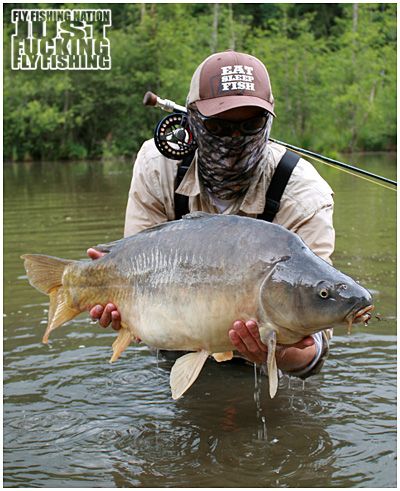 (Steriod bull)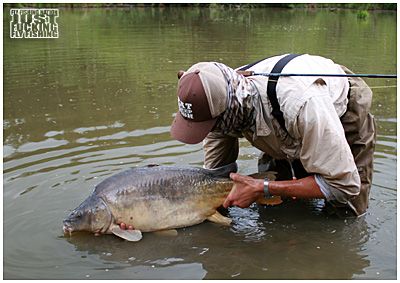 (Release)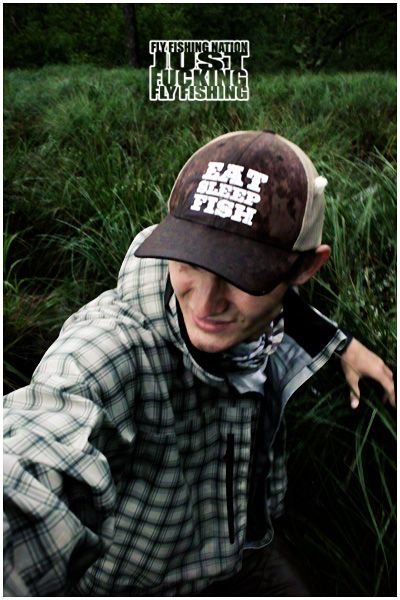 (Rain beginns to fall)
Our time ran off, just a few minutes after we had reached a shelter the wet apocalypse crushed down. Seriously, it felt like a massive wipe-out. Branches, uprooted trees, blown away tents - a picture of destruction. It was still raining after the first thunderstorm passed by, when I got back into the water; assuming that the muddy water along the shoreline must be a prefect feeding spot.
(Niko and Matthias are fishing the shoreline)
A quite bright GloBug with a tinny indicator should do a good job under these conditions. It was absolutely impossible to see some movement or any hind of active fish. Anyhow, I blindly decided to present my pattern close to a submersed structure that had produced some good fish before. Just a few seconds passed by until the indicator disappeared. Still wondering about the quick reaction something underneath glazed the surface by a simple flap of its fin. OMG that must be a real pig!
(Seriously Dude, that´s a real pig!)
The first run was unhurried but constant - almost deliberate! Oh yeah, that was my chance and the quote was on my site since the the air pressure and the oxygen level in the water were decreasing simultaneously due to the thunderstorm. Long story short, considering this circumstances it shouldn't be as hard as it's supposed to be. The fish came up the first time and I was almost pissing my pants as I realized that this is the stuff we were looking for... and I was damn sure! Check this unique footage: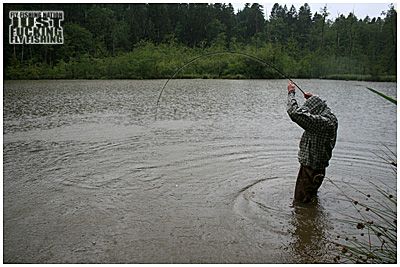 (Lifting the submarine)
(Landing a giant)
(OMG)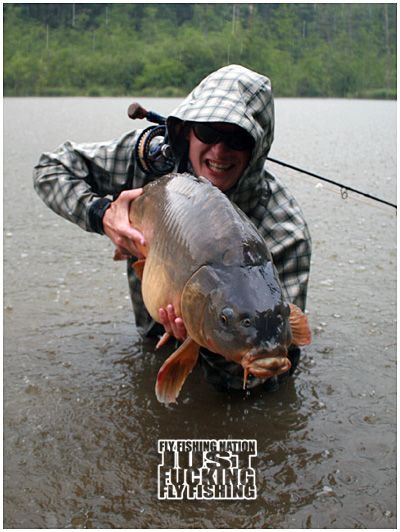 (Incredible Body Mass Index)
(Weight-In Time)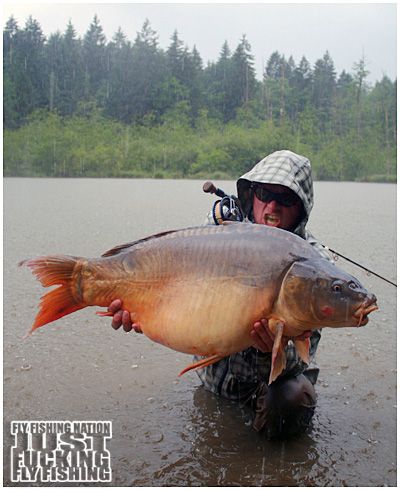 (19KG!!! - MISSION ACCOMPISHED)
19KG = 41.88783 Pound. Take that, Nemesis!!! I lost 3 fish of that range before during the last 4 years. 41pounds - almost 42pounds, sweetest revenge. Maybe the biggest carp on fly in my life - overwhelming. I need a drink.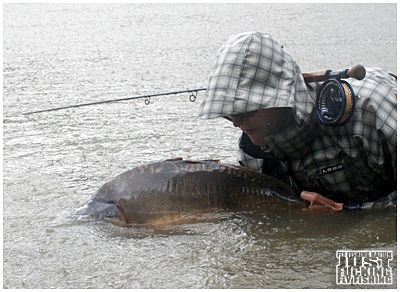 (See you soon greenback)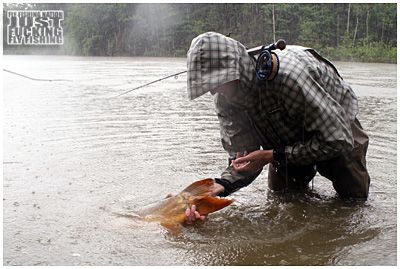 (Pt.II)

There was nothing more to say. That´s why we shut the fuck up and continued fishing in the rain. Both Pontoon and Shore fishing was overwhelming. Seeing the orange mouth right in the middle of disturbed water...casting the fly right at the feeding fish... awesome! Here's a compilation of pics how the day went on:
(Pontoon fishing)
(Niko fights a nice fish)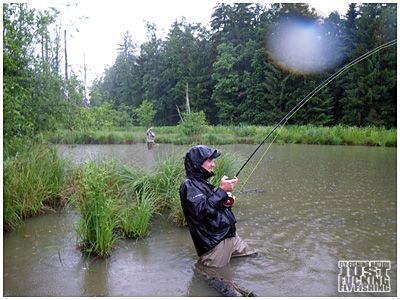 (Double action)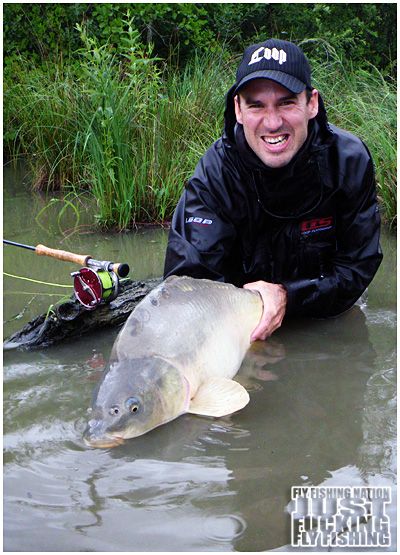 (Matthias kicks ass)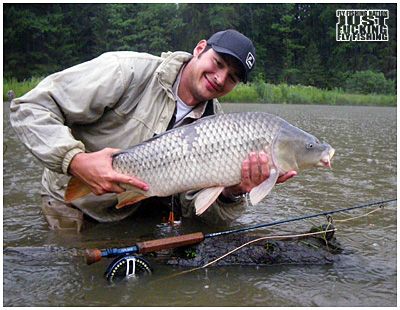 (Niko´s turn)
(Busted...on the ant)
(Tryin to land a fish)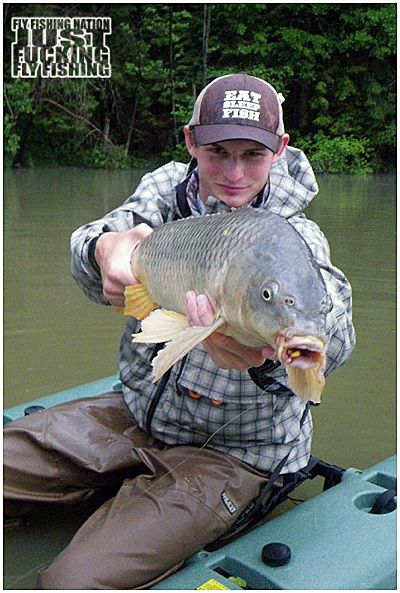 (Good stuff)
(Yeah!!!)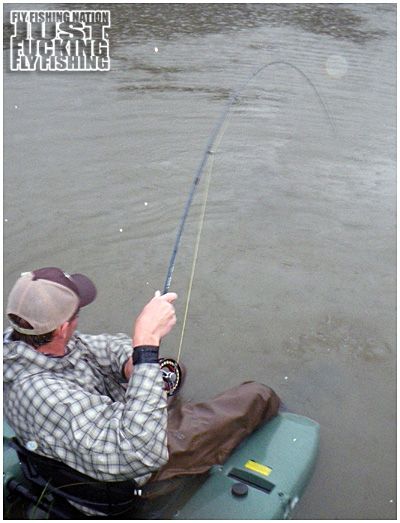 (Fight back)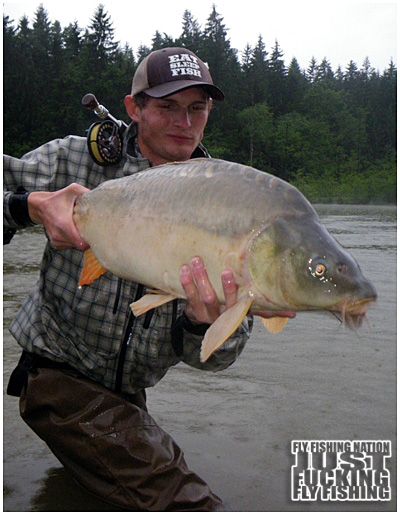 (Tight Lines)