Creek Addicted
by
Stephan Dombaj
Flyfishing is your cocaine - it keeps you going and you need it periodically. Your life as a flyfishing-junkie is a walk on a tightrobe and you are constantly searching for the next kick. Time to take it to the next level. You think it ain´t possible, than check out the highly addictive Opti Creek Series: The ultimate ultra light tools par excellence...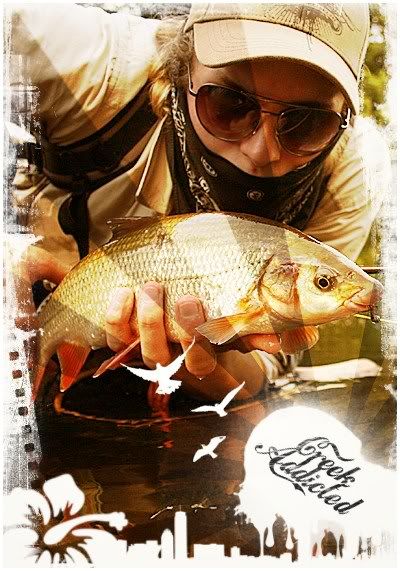 After one year of harsh longterm abuse I have to admit that I´m addicted to this rods. To be true, I´m using both the 2weight and the 3weight version (short and the long one) 90% of the time for trout- and streamfishing. Due to the tremendously deep loading action, these rods give you both power and sensitivness without being too mellow.
(373-3A Creek vs. Mur-River-Grayling)

Some people are still quite sceptical as far as lightline rods and big fishes are concerned; 2 and 3 weights are considert to be small-fish-fun-optimizer but reality couldn´t be further... I caught some of my biggest fishes on this sticks! To boil it down, I caught some very big fishes JUST because of this rods and I will tell you why...
(65cm Barbel vs. 2wt. Opti Creek)
Think about the real efficiency of a flyrod... you´ll come to the conclusion that we are operating withing a 15meter radius in the majority of cases. So now that we know that distance is just a realtive convinience we can adjust our tackle to fit in this range as far a presentations on 2 - 15 meters are concerned. It ain´t as easy as one may think...take a common WF-Flyline and try to present and streach your leader on a range of 3 Meters. Common linesystems are - in most cases - way to light on the first few meters to create a straight energytransfer that is energetic enough to streach leader, tippet and fly. Some flyanglers start to wiggle the rod aggressivly in order to get some more line out - finally they are going to lose the precision we are aiming for. Corollary of that example, a line that loads your rod even on the shortest distances. Long story short: Both the OptiCreek and the OptiStream lines are perfectly matching up with this rods. Due to the action of this lightweight rods we can go for bigger and spooky salmonides with very thin leaders, which can be heavyweight argument for dries. The quite short but yet so heavy tapersection in addition to the delicate deeploading action of the rodsystem results in a never-seen-before fishtool.
(Size 20 SD´s Spinner, black)
Still not convinced? Allright, I guess it´s time for some action now! Beside the pros upon there is another very important thing about UL (Ultralight)-Tackle: The yet so deep action has the same effect as a rubber-strap - it is shock absorbing so it´s nearly impossible to break thin leaders even if you are playing rough. And believe me... you can play very rough with this sticks!
Ultralight Rods = Ultralight Flies ?! Not at all... believe it or not, but you better give it a try. You can serve real beef flies aswell...for sure it´s not that delicate but it works!
(Tungsten Wooly Bugger goes Creek 2wt.)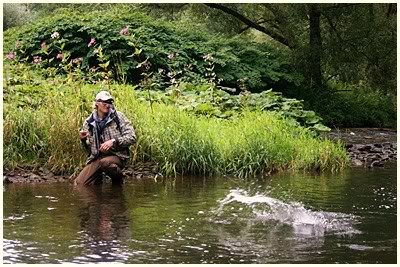 (0,12mm diameter on a OptiCreek 2wt. vs. BIG FISH)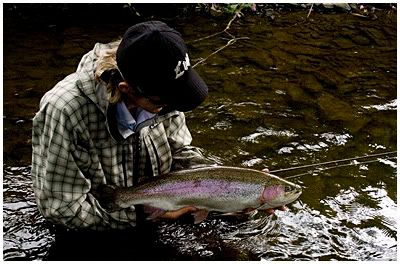 (69cm Bow on OptiCreek 2wt. - the fish was activly feeding on emergers 3 Meters away from me )
(Giant Trout vs. Creek Combo - the winner is...)
The Rods are available in 2lineclasses and 3 diffrent lenghts, each rod is quite indiffrent in comparison to the others:
LOOP Opti Creek 282-3A + Creekline WF2F is maybe the most versatile 2weight flyrod available. Superior "castability" even with big streamers! My fav. for 08.

LOOP Opti Creek 373-3A + Creekline WF3F (New for 2008) The short 3wt. is a true jungle-rod! Smooth and delicate action gives you a lot of control on shorter distances.
LOOP Opti Creek 388-4A + OptiStream WF3F is a true all-purpose rod. Powerfull and yet very progressive. Way faster than the short version.
Check out the following images. Maybe you´ll see why I am freaking out on that stuff. Beside all technical specifications and line recommendations it´s all about the feeling. Sometimes it´s not up to us to decide the moment when the fish of your lifetime/trip/year arrives - it´s just up to us to descide whether we are taking the chance or not. With this tackle you can be sure that you have the right tool to challenge this situation. And that´s what it´s all about - challenge everything.
(Get bend! 2wt Creek vs. Sneep)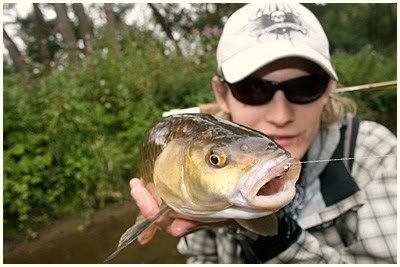 (Creek-Chub)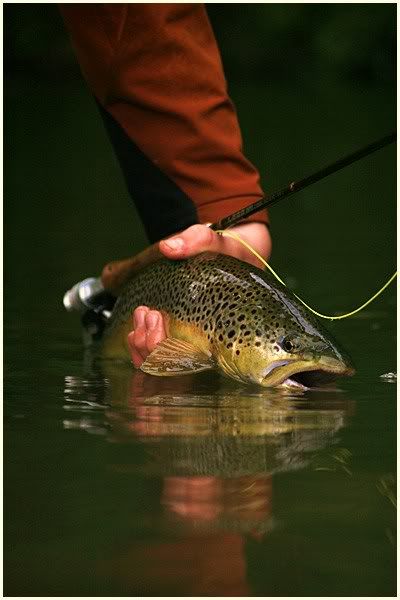 (Mr. Brown)
(Conehead-Streamer Trout on 2wt.)
(Fat Barbel vs. Opti Creek 2wt.)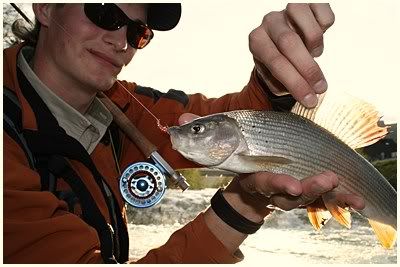 (Creek Combo did it again)
(Austrian Grayling on our latest toy - 373-3A Creek)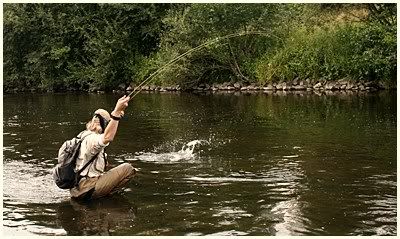 (Angry Sneep vs. Creek)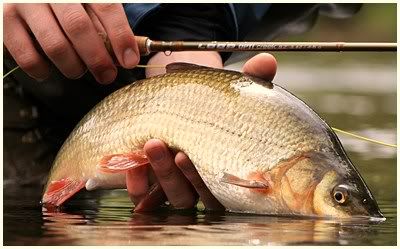 (Fat Sneep)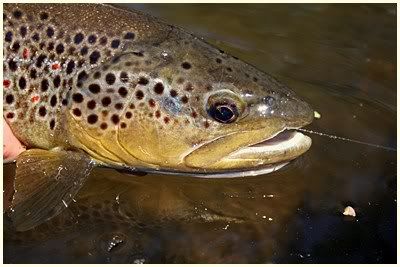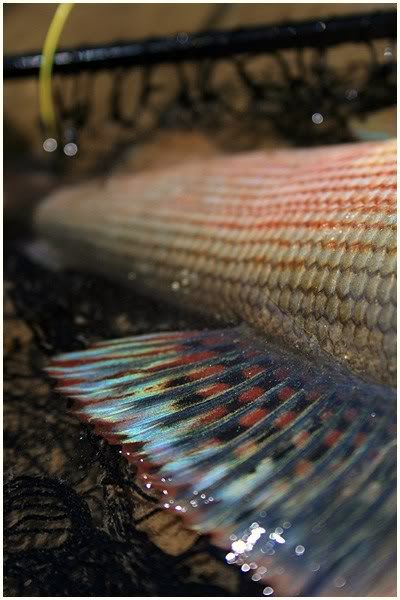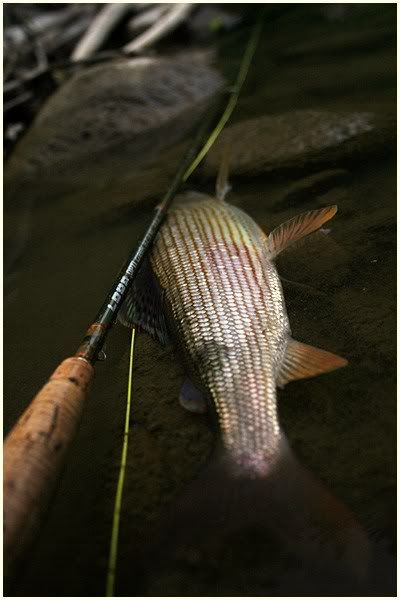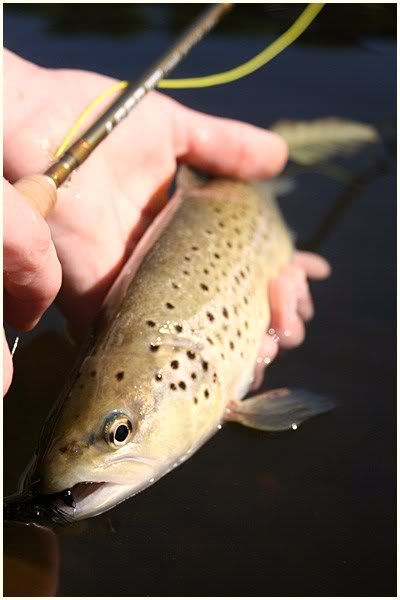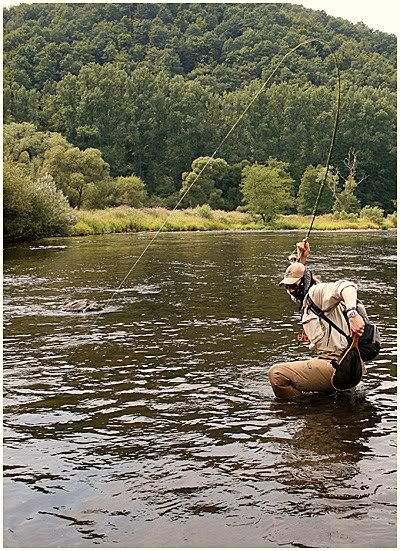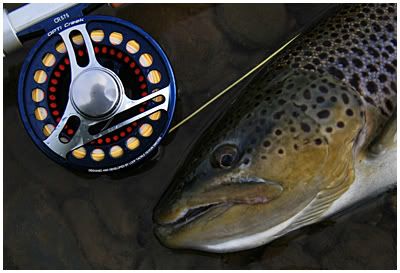 (Opti Creek 373-3A slammed down a nice buck)
(Creek Char)
(Sweet Brownie, 09Softshell and Creek Combo)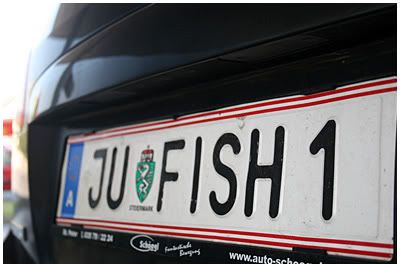 (YOU BETTER FISH NOW!!!)
Still here? C´mon - take your rod and get back to the water! Tight Lines!