Flyfishing Guerilla´s Last Chance
by
Stephan Dombaj
feat.: Paulo Hoffmann
and Nils Eckenberger
Circadian depression is about to come - in other words: Troutseasion is running off these days and nearly every troutfisher is fishing 24/7 in order to get the last pieces of the cake. Nils was ambitious enought to redefine his knowledge of light-tackle fishing. Be prepared for alleged faint rods that slam down big fat trouts. Do it Guerilla-Style!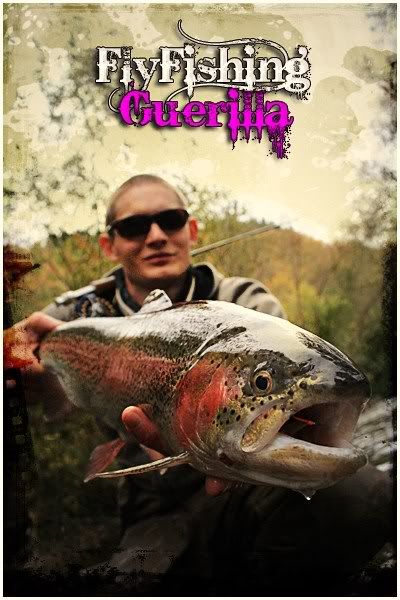 (Big migratory on a Red MP CDC)
Items to go:
Loop Opti Creek 373-3A + Opti Creek Reel + Loop OptiStream WF3F
Loop AEG Signature 590-3A + Loop Evotec G3 FW + Loop Multi Line WF5F
Life is an enumeration of worthy moments, the duration between each moment is just the way towards the next experience that will blow your mind and sometimes the moment itself. On every trip we have experienced so far, there´s always a special moment, where flyfishing reveals it most tremendous treasure. It´s a language based on moments and experiences - non verbal though but spooken by every participant and understood by frontiers around the globe. Maybe that´s why flyfishing is sometimes harshly tinched by philosophy and sometimes religious influences. Hardcore fishing is one thing... having a reason for it is another... and that´s the basement for the moment I´m talking about. Doesn´t matter whether your sitting in a car, plane or a boat with your troup of FCMFs; Flyfishing-Gossip, laughter, conversations, stories... everything dissolves slowly into silence...not because there is nothing more to say, it´s because the moment takes over and everyone is captured by the spirit of Flyfishing; experience and greatfullness. This moment is simultaneously answer and question in once: The question why we are doing this, is the answer itself. Because we are doing this, because we are chasing one moment after another in order to convey the great spirit of flyfishing around the globe...a borderless language that is highly addictive and spooken by a very few!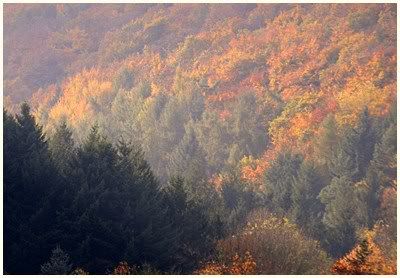 (Last Chance)

Autumnal colours are surrounding you; just one last knotcheck because you don´t wont the fat trout infront of you breaking up your tippet. You are ready - the tiny little 3weight in your hand is ready to go for it but you feel like you have to walk on a tightrope. This could be your seasional PB (personal best) and it´s just one cast away...
(Fat migratory feeding on nymphs)

You are spooling some line off. First falsecast, second...smooth cast but not as smooth as your fly lands just right infront of this fish... It moves and STOP! this is your story... so get your ass back to the water and tell me something about an happy end. I want tell you our story today... I´ll show it to you: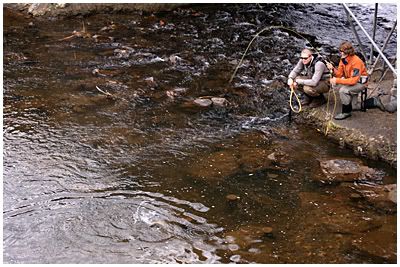 (Nils´s first cast)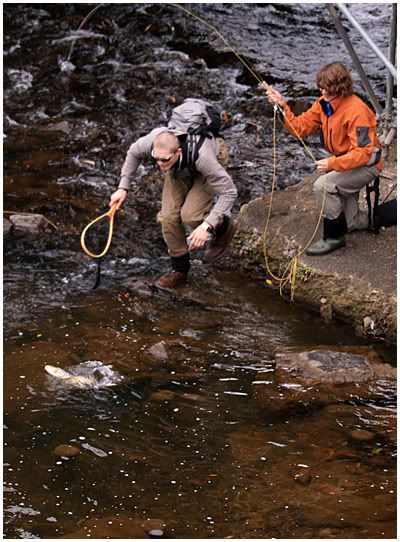 (Decent Brownie)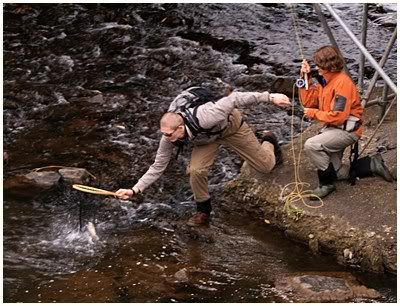 (Here we go...)
(Good one! Tight Lines)
(Paulo in action)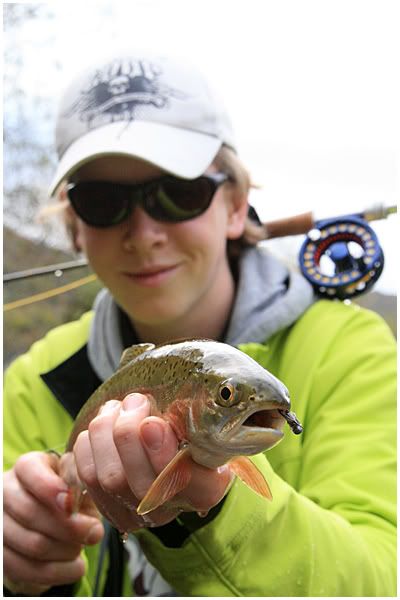 (Sweet Bow)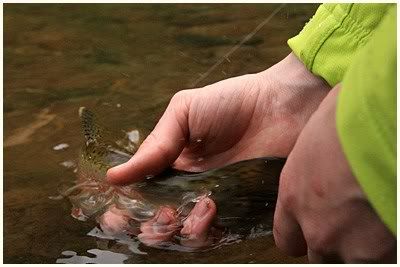 (Release...)
(Brownie on Wet-Pink-Conebomber)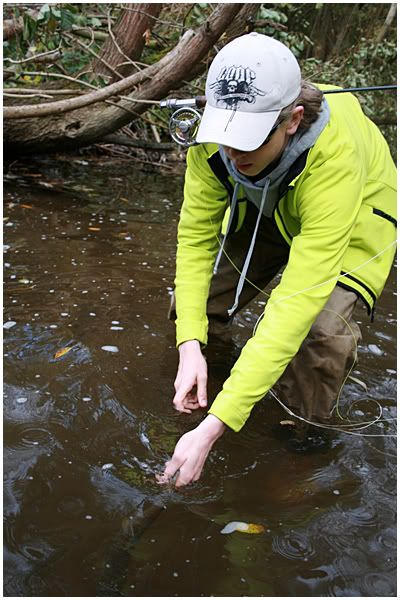 (Release...)
(Nils again)
(Which pattern could be working?)
While both Paulo and Nils were chasing and slamming down one trout after another, I was in search for the big bang. Since the first runs of migratories are calming down now, I had to search a bit for them - but is was worth it. I discovered a nice one feeding on small needles and sedges. 0,12mm Diameter tippet with a MP Red CDC on it´s end, topwater-skating... here are the pictures: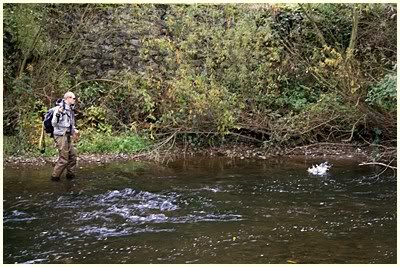 (The take!!!)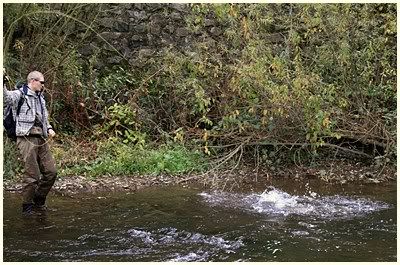 (Get bend - what a curve)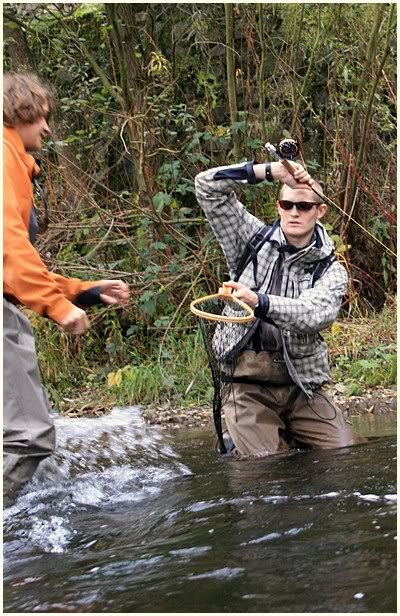 ("Dude, take the net!")
(Be prepared...)
(for...)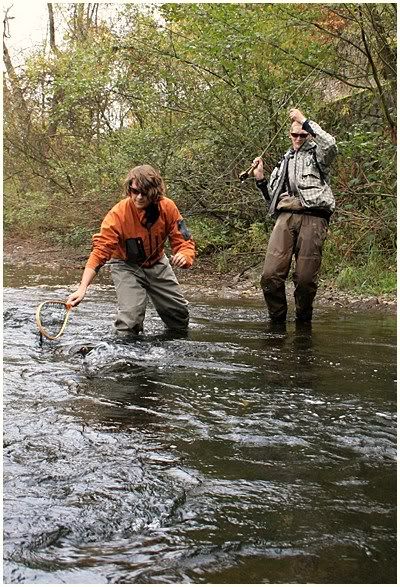 (another run!!!)
(Increasing the pressure)
(It turned around and went downstreams)
(Story about a net that was way to small...)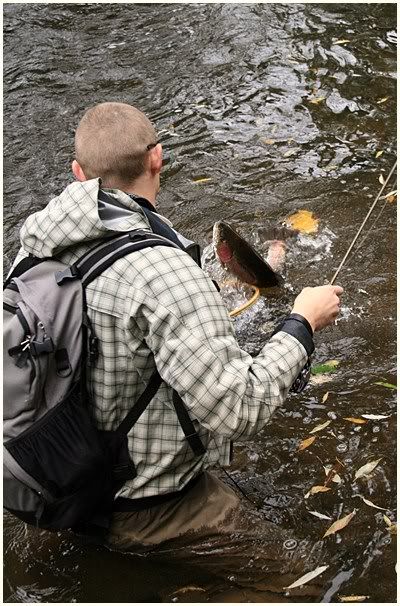 (Pt.I)
(Pt.II)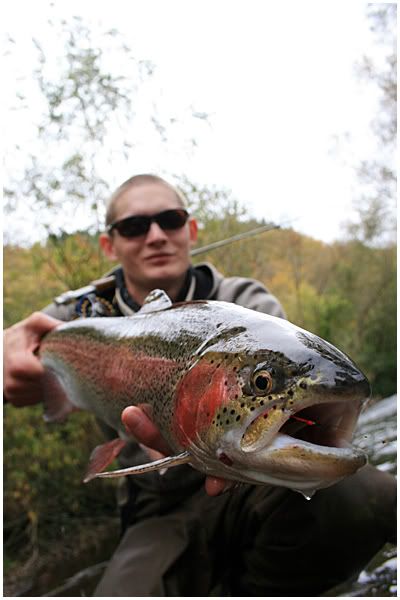 (But I finally got it...)
(Big fish vs. tiny dryfly)
(Tight Lines)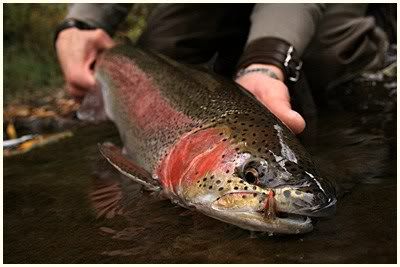 (Fatty)
Big Bow No.I for that day - perfect in shape and condition. Time for some regional gastronomic specialities: "Federweißer und Zwiebelkuchen" - "Federweißer" is a half fermented white wine, very sweet in taste and a perfect match to "Zwiebelkuchen" (Onionpie)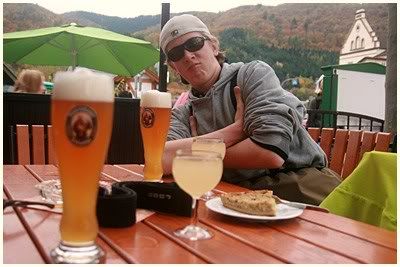 (Federweißer und Zwiebelkuchen)
(Landscape)
As we all relized that eating and drinking is way too overrated ;-) we got our asses back to the stream where they belong. Well, back at the river I went for another big trout which I have seen last time as it refused my dryfly...soo, item for to go: Peeping Caddis and 0,16mm dia:
(Third cast just came right...)
(Yeah, it´s the big one...and it´s moving upstream!)
(Holy Crap, that trout kicks ass!)
(Bend-Portrait)
(...into the deep run)
(There it is!)
(64cm)
(Release)
Big Trout No.II for that day - destiny strikes again and we are still not done...
(The Lighttackle effect)
(Beautifull Char)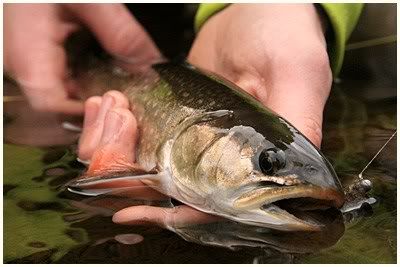 (Char Portrait)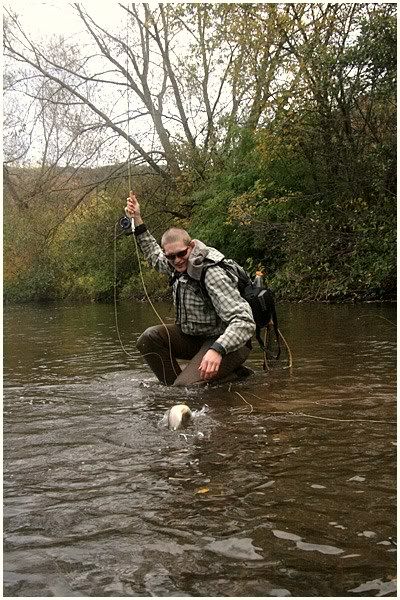 (Little Bow)
(Pt.II)
(Nils again)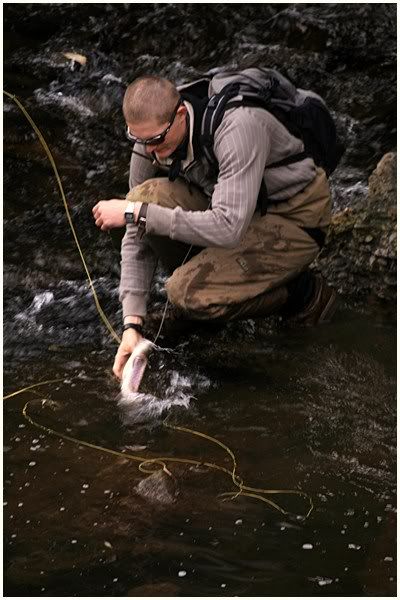 (Landing)
(Mr. Brown)
(Instruction)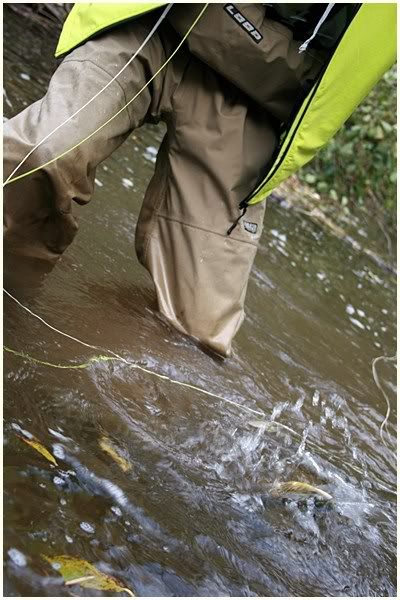 (Action)
Misc.