The following story is so freaky that I wouldn´t believe it myself if I were not a participant. So here we go: Alex, Stefan and I heard about a valuable amount of carp and catfish (Silurus glanis) in a small lake in southern Austria. Flat, quite weedy, full of preyfishes and bloodworms (which is very important for juvenile catfishes)...and the hope for Catfish on fly that kicks ass big time is the biggest plus! Eventhough this freaky monster looks quite lazy it can be fast as fuck - you´ll know what I mean when you see this giant chasing preyfishes. We arrived at quater past seven - sweet, time enough to get some carp and to flex the new LOOP AEG Signature 6wt. 6,9ft till it cracks (of course it didn´t crack)!

I caught several big breams on a glo bug while Alex slammed down a nice 8kg Carp, then things got strange...a whole bunch of big carps swam to the nort-side of the lake... as the fishes arrived, something really big crushed into the troop...fishes far over 10kg flew around like candy on carnival. The biggest boil I have ever seen (approx. 10sm in size including the jumping fishes), looked like someone had thrown a fucking Hammer-Car into the lake! Sweet merry mother of mercy...Catfish impact at it´s finest...time for a break and equipment check. 22 o´clock: 0,45 dia. leader and a shocked tippet and the biggest Zonker out of my Guide-Box (about 13cm - a fuck of a peanut for a capital cat) was all I could effort - not much, considering the enormous possible size. As I said before, Fortune is a philandering bitch - you never know. Meanwhile Alex prepared himself to beat up some big carp asses with a freaky fucked up globug-style tied algea-fly. Barely seeing something he hooked a sweet fish after a few casts...the small carp we expected showed up to be a big Asp (aspius aspius) Asp on a non-moving-fucked-up-globug-style-tied-algea-fly!!!
Alex´s Asp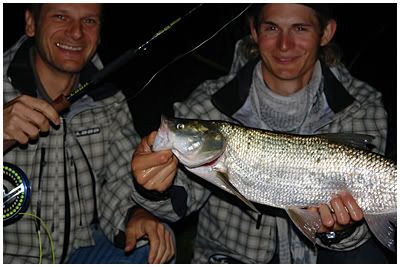 Booster Combo strikes again
Time for a blast. "Turn the headlight off, blindcast into the dark, let it´fly, strip it harsh, prey for the big bang" hahaha, easy in theory. I heard my fly bumping into the water about 25 meters away from me...first strip, second strip... a big boil behind my fly, twitching...another boil and my flyline bumped forward.STRIKE!!! I set the hook several times as hard as possible on this distance...pressure, yeah bitch.
Eventhough the fish on the end of the line behaves not like a giant beast I´m quite satistfied..."something" took my fly in the darkest night. As the fish came close to the shore things got hot. Some nice reelscreeming runs and a buttload full of pressure! Feels good! Headlight on...and something pretty big and silver blasted anothertime away from the shore....no cat, but maybe it´s a big fat giant asp? Damnit, freaky day! A drunk´n fuck came up with a landingnet... good idea in theory, but after he had managed it to messed up several tries to get the fish in the net Alex took the fucking net and got the fish. Jesus Christ - a freaking Amurcarp smiled at me - with a Zonker in its mouth.
Fortune is a philandering bitch, you never know...